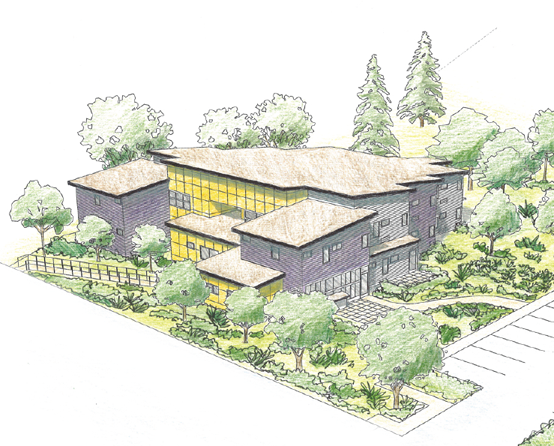 Cedar Sinai Park is delighted to be breaking ground for Kehillah Housing, a 2-story, 14-apartment building for adults with special needs, on Friday, September 28, 2012, at 11 am, on our Southwest Portland campus.
According to Cedar Sinai Park CEO David Fuks, "The development of Kehillah Housing is an important step for our organization. We are pleased to be helping to create a new resource to meet the needs of developmentally disabled adults and their families."
Upon completion in summer 2013, Kehillah Housing will offer developmentally disabled residents affordable housing and access to an array of social services that support their inclusion into the community through social activities and supported employment. Life skills training will also be available to assist residents with their successful transition.
A standalone nonprofit organization, Kehillah Housing will collaborate with a number of service providers, including Jewish Family and Child Service, to offer residents much needed support to help transition them into independent living.
Major funding for the project came from U.S. Department of Housing and Urban Development, which awarded $2,035,800 to the project under the Frank Melville Supportive Housing Investment Act. HUD Secretary Shaun Donovan said, "The Obama Administration is committed to helping our senior citizens and persons with disabilities find a decent, affordable place to live that is close to needed healthcare services and transportation."
Fuks said additional funding came from Oregon Housing and Community Services, Portland Housing Bureau, National Council of Jewish Women, Wayne D. Kuni and Joan E. Kuni Foundation, Jerry and Helen Stern and the Stern Family, as well as many other individual donors.
The project is expected to create up to 40 jobs in construction and operation.
Press release [pdf]
Campus map with access routes