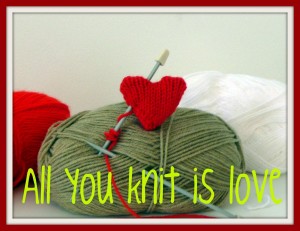 Cedar Sinai Park has two knitting programs that our residents thoroughly enjoy. Both of the groups donate their work to good causes and are in need of yarn, cash or gift certificates to continue with their mitzvot. Do you or someone in your community have yarn that needs a new home?
Purls of Wisdom gathers every Monday afternoon in the arts and crafts room in Rose Schnitzer Manor. Group members knit items for themselves or for local charities in need. Knitted projects have  supported organizations such as Jewish Family & Child Service, domestic violence survivors at Raphael House, prematurely-born babies at Providence St. Vincent's Medical Center, clients at the White Bird Crisis Center, as well as residents at our very own Robison Jewish Health Center. Group leader Annette Gerard mentioned, "It's a nice way to keep busy and accomplish something at the same time." The Purls of Wisdom members are looking for any color sport weight yarn.
The Knitzvah project is a group of ladies that make Shalom Shawls for residents at Robison Jewish Health Center. This project started in 2006 and have provided many of our residents with beautiful prayer shawls to be used on Shabbat and Jewish holidays. The shawls are made out of multi-color homespun yarn that can be purchased at Fred Meyer or Ann Fabrics for $6.49 a skein. Each prayer shawl requires three and a half skeins that must be purchased together so the dyelot so the yarn intensity matches. Members of the Kntzvah group are happy to purchase the yarn with the generous contributions from our larger community. Providing prayer shawls for our cherished residents at Robison Jewish Health Center keeps them engaged in their Judaism and supported by Portland's Jewish community during the last stages of their lives.
Thank you in advance for helping us get the materials needed to accomplish these mitzvot and sharing with your friends and family. If you have any questions please contact Kathy Tipsord at 503.535.4394 or kathy.tipsord@cedarsinaipark.org "It is easy to say how we love new friends, and what we think of them, but words can never trace out all the fibers that knit us to the old," George Elliott.