Bingo can be traced back to a game called Lotto, played in Italy in 1530, and reinvented into its modern form in the United States in 1929. Still played today, it is certainly popular at Cedar Sinai Park.
Residents at both our Rose Schnitzer Manor and Robison Jewish Health Center enjoy weekly games and some get quite competitive!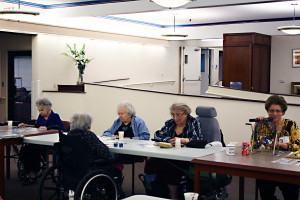 Not only do residents get to spend some fun and competitive time together but they get personal attention from volunteers who come in just for the games.
You can join in the fun by joining the ranks of our long-term "professional" volunteer Bingo callers such as Bob Ginsberg and Charles Jagger.
Being a Bingo caller takes talent — if you have a strong voice and ability to repeat letters and  numbers in the same manner and review the winning numbers as the person calls them out…this volunteer position might just be right for you!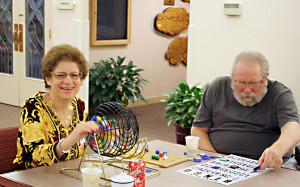 If you are interested in volunteering as a  Bingo caller at Cedar Sinai Park, please contact Kathy Tipsord, Community Life Director.
Bingo games are Tuesday afternoons and Wednesday evenings at Robison and Sunday afternoon, Monday evenings, and Tuesday evenings at Rose Schnitzer Manor.
If you or your group would like to volunteer on a regular basis to call Bingo and assist residents with locating numbers, we would love to hear from you.