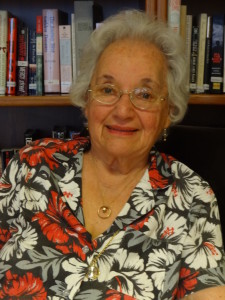 Each year LeadingAge Oregon (the statewide association of not-for-profit and other mission-directed organizations dedicated to advancing quality aging) sponsors the Volunteer of the Year award…allowing member facilities to select a resident who has contributed in a significant way to that facility or campus's mission and quality of life. We are proud to announce that Rose Schnitzer Manor resident, Annette Gerard is being recognized as Cedar Sinai Park's Volunteer of the Year for 2014.
Annette moved to RSM in March of 2010 and immediately began volunteering without delay. Greeting residents in the hallways with a smile and friendly hello, Annette can be seen involved in many different ways of giving back to the Cedar Sinai community and the Portland community at large.
She is instrumental in coordinating Purls of Wisdom, a group of RSM knitters who have created over 1300 items including hats, booties, scarves, and afghans which have been donated to JFCS, Raphael House for Battered Women, St. Vincent Neonatal Unit for premature babies,  White Bird Clinic for the Homeless, Breast Friends, and several other local organizations. On a weekday, you can catch Annette in the Stop 'N Shop greeting customers, arranging displays, makes and donates beads to be sold, and encouraging purchases to those shopping. As a Resident Ambassador, Annette greets new residents, tours potential residents and families, and tries to make moving into a new home as comfortable and welcoming as possible. For the past two years, Annette has chaired the nominating committee as part of the RSM Resident Council.Annette was involved with Seder Plate making, Shaloch Manos gift bag assembly, and is always ready to grab a few friends to help assemble a mass mailing being sent out by various departments. Besides singing in the choir each week, she is also busy tending the greenhouse and its tender seedlings and coordinates the yearly plant sale open to staff and residents.
Congratulations to Annette for her years in volunteering on campus and her devotion to the community she lives in and to her peers. She is our volunteer of the year … all year long and beyond!