What is #GivingTuesday?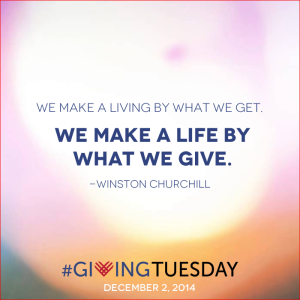 Black Friday. Cyber Monday. #GivingTuesday!
We have a day for giving thanks. We have two for getting deals. Now, we also have #GivingTuesday, a global day dedicated to giving back.
On Tuesday, December 2, 2014, charities, families, businesses, community centers, and students around the world will come together for one common purpose: to celebrate generosity and to give.
It's a simple idea. Just find a way for your family, your community, your company or your organization to come together to give something more. Then tell everyone you can about how you are giving. Join us and be a part of a global celebration of a new tradition of generosity.
What you can do:
You can still sign up to become a #GivingTuesday partner.
You can donate time, money or both to a cause of your choosing – just make sure you join the conversation on social media using the #GivingTuesday hashtag.
You can give online to support elders living at the Robison Home … because without your support many cannot cover their cost of care. At Cedar Sinai Park, we help our community's elders and people with disabilities live with comfort, independence and dignity wherever they call home. Making your gift is easy, simply go to #GivingTuesdayRobison. Your gift will go to our Annual Fund to help where most needed.