We are thrilled to announce that several Cedar Sinai Park residents were selected as winners in the  LeadingAge Oregon Creative Writing Contest this year. Talented residents of Robison Jewish Health Center and Rose Schnitzer Manor have been participating in the program for many years.
"A written word is the choicest of relics.

It is something at once more intimate with us

and more universal than any other work of art.

It is the work of art nearest to life itself."

Henry David Thoreau
Cedar Sinai Park is proud to announce the winners from our community who submitted entries in the LeadingAge Oregon Creative Writing Contest. Winners enjoyed a luncheon and presentation of their writings recently, along with other winners from non-profit senior healthcare facilities throughout the state.
Winners from Robison and Rose Schnitzer are:
Robison
Barbara Becker Donnner
Rose Schnitzer Manor
Sam Berry, Florence L. Blitch, Marion E. Gans,Martha M. Pomeranz,  Bob L. Lustberg,
Please take a moment to enjoy the winning entry of Bob Lustberg who introduced his piece by telling the audience "If you are under 80, please leave the room"…a bit of humor to set the tone for his take on "Sex Education in the 1920s".
Sex Education in the 1920's by Bob Lustberg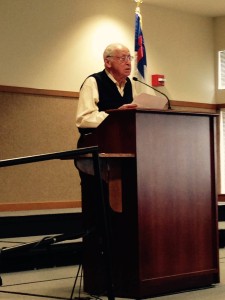 On July 5, 1925, when I was 5 years old, my mom gave birth to her second child, my brother, Arch. The big event took place at the Bedford Maternity Hospital, which happened to be located just beyond the right field wall of the once hallowed and now defunct Ebbets Field.
My father took me to visit mother in the hospital. I recall standing by her bedside thinking how wonderful she looked holding the tiny bundle of a baby. "Papa," I asked, "where did the baby come from?"
Now, I should tell you that my father was not a very communicative person. For as long as I knew him, he rarely initiated conversation. In fact, he spoke only when spoken to. His answers to questions were always brief, and if a head movement or hand signal would suffice, he seemed to prefer that sort of response. The question put to my dad by his 5-year old son stopped him cold, and he was his usual silent self for the next few minutes.
Finally he said, "Let's go up to the roof and watch the ball game." Up on the roof, we had an excellent view of the game that was in progress.
"Bobby," my dad said, "yesterday Babe Herman hit a home run. That ball came over the wall and through the window of your mother's room and there was your brother." This was the end of my sex education lesson.
Was the explanation thrilling? You bet! Did it make sense to me? And how! In any case, my question was answered, and from that point on, my father considered my sex education complete.