Rose Schnitzer Manor has it's own knitting group called, The Purls of Wisdom. The knitters regularly donate their creations to various causes. Most recently, they have donated 25 hats for cancer patients to Compass Oncology.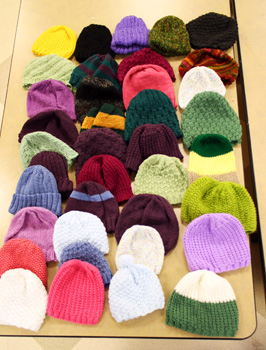 Group member and Manor resident Annette Gerard has previously said that knitting for charity projects is "a nice way to keep busy and accomplish something at the same time." It is also a Jewish tradition … part of Tikun Olam (caring for the earth and the people on it).
Amazingly, with this latest donation, the group has now given 1800 knitted items to charity!
Thanks to all the members of the Purls of Wisdom for your handmade gifts from the heart!