Today we are breaking ground on The Harold Schnitzer Health & Rehabilitation Care Center. We are also looking forward to a full renovation of the Robison Jewish Health Center once the new facility is complete! We could not have come this far toward our goal of creating a state-of-the-art 21st century rehabilitation and long-term care center – without our community.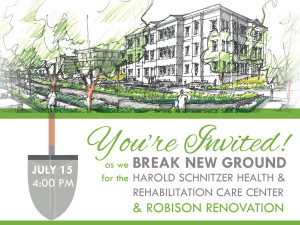 We have been so encouraged by the responses from our Jewish community and beyond. We are very close to raising all the funds needed for our new GREEN HOUSE MODEL® for a long-term care household and rehabilitation facility – both with all private rooms and bathrooms!
We have raised nearly 19 million dollars and now we need help from YOU and your community to make our dream a reality. This project is just too important for you not to be involved. Participating is quick and easy. You can make a Mitzvah with an online donation right now at Dignity By Design Webpage.
We are kicking off this final effort today and hoping to complete this by Rosh Hashanah. You can help us to make this happen. Feel free to check out the site and/or call us with any questions you may still have at 503.535.4422.
Sincerely,
Lance Steinberg
Board President