Tuesday, November 3, 6:45-7:45pm
"Aging in Southwestern Sri Lanka: Care, Property and Intergenerational Exchange"
With Michele Ruth Gamburd, Portland State University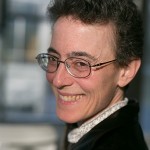 Part of the Lecture Series: "Culture Shock: What Margaret Mead Never Told Us" 
The lecture series consists of free lectures in November, which take place on Tuesdays at 6:45 p.m., giving us a glimpse into the practices of diverse cultures from around the world.
In this presentation, Michele Ruth Gamburd examines how Sri Lankan families handle intergenerational transfers of property, money, and care. Through ethnographic data gathered in Southwestern Sri Lanka in 2009, she explores the norms and expectations that govern the treatment of elders, including the care of distant relatives. She examines local debates over acceptable and unacceptable forms of elder care, including conversations about newly emerging old age homes. She will conclude with some thoughts on how the demographic transition and current migratory patterns may challenge and change cultural norms about kinship and care.
Michele Ruth Gamburd is Professor and Chair of Anthropology at Portland State University. A cultural anthropologist, she received her Ph.D. from the University of Michigan in 1995. She is the author of The Kitchen Spoon's Handle: Transnationalism and Sri Lanka's Migrant Housemaids (2000), Breaking the Ashes: The Culture of Illicit Liquor in Sri Lanka (2008) and The Golden Wave: Culture and Politics after Sri Lanka's Tsunami Disaster (2013). She is co-editor (with Dennis B. McGilvray) of Tsunami Recovery in Sri Lanka: Ethnic and Regional Dimensions (2010).
To RSVP, please call 503.535.4004 or email deborah@cedarsinaipark.org.