About Us
Our Staff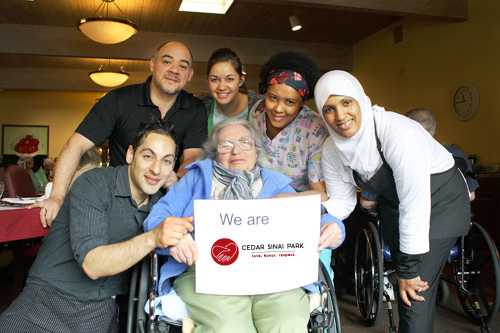 The quality of our services is attributable to the warm, personal touch of our caring staff. Staff members approach their jobs and our residents with respect and compassion. It is our honor and privilege to recognize that staffs' high level of professionalism is balanced by their remarkable patience and warm sense of humor.
Employees of the Quarter
In 2002, Marla and Bob Weiner and Steven Weinstein established the Rhea Weinstein Employee of the Quarter Fund to thank and honor the caregivers at Cedar Sinai Park for the quality of care provided to Marla's mother, Rhea Weinstein, of blessed memory. Each quarter, an exemplary employee is nominated by peers, residents, family members, and other guests to receive a gift certificate, recognition plaque, and use of a designated parking spot or bus pass. Employees of the Quarter also have lunch with Cedar Sinai Park Executive leaders.
We wish to congratulate these employees who are both exemplary themselves and who represent excellence in the care of elders.
| | | |
| --- | --- | --- |
|   | ROSE SCHNITZER MANOR | ROBISON JEWISH HEALTH CENTER |
| 2015: | Aloa Quevedo | Cheryl Fisher |
|   | Sophia Debrum | Tony Bracco |
|   | Osbaldo Mendez | Maggie Gonzales |
|   | Nathan Gregg | Valeia Perez |
| 2014: | Rath Sok | |
|   | Sacir Hadzic | Abdoulie Jobe |
|   | | Peggy Wood |
|   | Debbie West | Brancika Ulemec |
Nominate for the Rhea Weinstein Employee of the Quarter