Meet Jack Honey. A native Oregonian, Jack Honey's first home was in Cottage Grove. His interest in working with elders however actually began over 7,000 miles away in New Zealand. As a high school exchange student there, he worked at a small private nursing home for elders with advanced-stage dementia. Jack saw beyond the residents' cognitive challenges and got to know each one.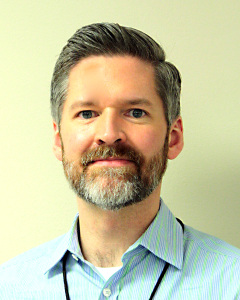 Receiving his Bachelor's degree from the University of Oregon (in Russian and East European Studies), Jack moved to Los Angeles where he volunteered at the Holocaust Foundation and worked as a Case Manager for the Jewish Family Service. Jack earned a Master's degree in Exegetical Theology – the study of source documents in Hebrew and Greek – before heading to Russia as a member of the United States Peace Corps.
Luckily Jack moved back to Portland eventually and got his Masters of Business Administration degree from Marylhurst University.
He worked for the Home Care Program of Jewish Family and Child Services and as Executive Director of Sinai Family Home Services (now Sinai In-Home Care) before becom-ing Robison Jewish Health Center's Administrator earlier this year.
Jack explains that "his mission is to ensure that our community's elders receive the highest quality of care and quality of life possible." He warmly greets each resident, confers with family and offers support to the staff. He seems to be home.