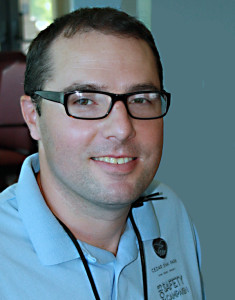 Craig Hutchins, a Certified Medical Assistant at Cedar Sinai Park's Robison Jewish Health Center has received a statewide award for his positive "can do" attitude with the elders he serves.
Hutchins was honored at the LeadingAge Oregon Annual Conference, held May 18 – 22 in Redmond, Oregon. LeadingAge Oregon is a statewide association of not-for-profit and other mission-directed aging service organizations and communities.
Hutchins received the "Caring Spirit" Award, which recognizes an individual who continuously exemplifies service and dedication in his or her profession within direct elder care.
A Certified Medical Assistant (CMA) and shift supervisor, Hutchins is known for his smile and flexibility around the needs and wants of the residents. His willingness to work as a member of the team for the best quality of care and an excellent work environment for his co-workers is demonstrated on a daily basis. In everything Craig does, his attention to detail, his caring attitude towards residents and his dedication to the highest possible level of care and quality of life proves the commitment he has for the individuals he serves.
About LeadingAge Oregon
LeadingAge Oregon is the statewide association of not-for-profit and other mission-directed organizations dedicated to providing quality housing, care and services to the elderly and disabled. The LeadingAge Oregon mission is to represent and promote the common interests of its members through leadership, advocacy, education and other services to enhance members' ability to serve the elderly. LeadingAge Oregon members— nursing, residential care, assisted living, housing and continuing care retirement facilities, and senior service agencies— serve more than 16,000 older Oregonians with a commitment to meeting their total needs. For more information, visit www.leadingageoregon.org.