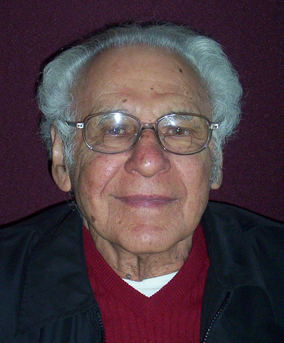 On February 24th, Murray Kaufman – a resident of Rose Schnitzer Manor – will receive special recognition at this year's Creative Writing Luncheon hosted by Oregon Alliance for Seniors and Health Services.  Mr. Kaufman's winning poem entitled "Love", along with all other top entries, will appear in this year's publication of Reflections: A collection of writing and poetry by Oregon's Elders.
Murray began writing poetry about 20 years ago when he retired from teaching.  Over the years, his collection of self-authored poetry has grown to over 1,000 poems.  But Murray isn't the sole possessor of these works of art.  Each time Murray completes a poem, he sends a copy to his granddaughter.  Now 17 years old, she safeguards these treasures in a binder dedicated solely to her grandfather's poetry.
Murray is 91 years young, energetic and politically active.  When he's not busy advocating, organizing or fund raising for charitable causes, Murray delves into writing more than just poetry.  He has also written several plays and is now trying his hand at screenplays.
Murray's poem "Love" won recognition at this year's Creative Writing Contest, but Murray will tell you that it's not his finest work of poetry.  This special designation is reserved for "Love II", his favorite self-authored poem.
"Love"by Murray Kaufman

Love—with the biggest L you can find—
tell me, s'il vous plait, is there any flexibility
in your complexity? Will you explain—how
does this mysterious enigma work? How does
it begin? The French say—a coup de foudre—
a stroke of lightning; others—the cynics—
say that the eyes become distorted in a wishful
way, and they see an idealized image—like me—
handsome, rugged, tall with beautiful black hair,
so fair, it would look gorgeous on a mare—and
there's more: the wrinkles get lost, and the pot
belly gets tossed, and the dreamy woman with
stars in her eyes, thinks there is my man,
naturally, across that crowded room, but when
her head clears and she sees the reality, and
especially the white hair, she cries out: "No, no,
this is not fair, I want his black hair!"

Ah bien, so how does a white-haired man find
his love? Is love a chemical thing that needs not
a ring? Or, perhaps, love is a lily of the
valley in bloom, soft and tender, and ready to
surrender; or, a mysterious potion that leads
to a crazy notion that two random people—
I'm one—groping for an opposite in this universe,
finds themselves eloping—count me in—as their
souls interface, regardless of race, as their bodies
are suspended and upended into a feverish thrust
as love bubbles up, in a moment of incredible joy,
and a simple kiss blesses the union, and a million
stories begin as nature's irresistible force, the catalyst
of history and life, drives you and me—(my fantasy)
to our inevitable task: not to ask, but to do: this
mysterious enigma offers both of us its flexibility as
it searches for our love in its complexity.

"Love II"By Murray Kaufman

My newspaper ad reads:

Searching for a woman with a face
bathed in grace
perhaps, an amalgam of the
human race. Her eyes — a
liquid green, with a high cheekbone,
rarely seen.

Has age etched lines in its gentle
contours? And did her beauty fade in
this savage raid?

Is she fiercely independent and does
she walk to her own drummer –
yet reach out with love to a kindred
spirit?

Does she have a sense of humor and
love adventure? Is there a soul to quell life's
fears And kiss her tears?

Is it of a luminous sort that cannot
be bought, rare in the purity it has
wrought, and eternally sought?

If this is so, remember this: a
wrinkled face–where love, honor,
and all the virtues shine, is a face
forever divine…

The answer came: I have a weather-beaten
face, wrinkled and full of grace. I have the
body of a woman of magnificent vintage.
Is this fine?

My search has ended. She is mine.