Quality of life — a smile, the sound of laughter, and a sense of belonging — resides at the heart and
soul of activities programming at Cedar Sinai Park. Whether our residents are on an expedition to the coast or are listening to a live, on-campus music performance, our elders continue to share, listen, and live as important members of the local community.
We provide engaging and appropriate group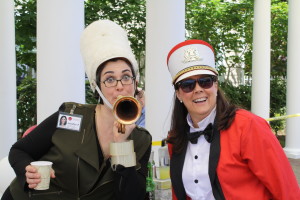 activities adjusted to the needs, abilities and interests of our residents to encourage self-esteem and feelings of success and belonging. We offer community outings and on-campus activities ranging from yoga and music therapy to road trips to the Oregon coast. With a creative and energetic Life Enrichment staff, new outings and events are scheduled each week based on residents' interests. Our services and activities play an integral role in enriching community, friendships, and dignity among our residents.
A sample of our activities…
Road Trips & Outings
Visits to museums and art galleries
Sample Various Eateries
Concerts, musicals and theaters
Sporting events
Trips to the coast
Fishing excursions
Casino visits
Sternwheeler cruises
Weekly Shopping Shuttles
On-Campus Activities
Summer Barbeques
Annual Classic Car Show
Red Hat Society social club
Various Daily Exercise Classes
Weekly Musical Performances
Monthly Lecture Series
Cocktail Parties
Discussion Groups
Zoomobile
Rose Festival Coronation
Intergenerational activities
Our activities are designed for those who are the most mobile to those who are the least mobile. At Cedar Sinai Park, no elder is left behind.
Life Enrichment Event Calendars
Robison Jewish Health Center Calendar
Rose Schnitzer Manor Calendar