Dignity by Design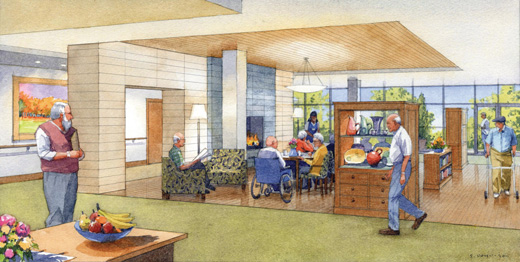 Cedar Sinai Park aims to provide elders with care wherever they are in life. People want to age at home for as long as possible. When the time comes to enter nursing care we believe it should feel like home. We are creating space that our elders can call home.
The needs of our community have evolved since Robison Jewish Health Center was built in 1955. It is time to create a new home for our elders, one that continues our 92-year tradition of love, honor, and respect; that builds on our accomplishments; and that improves on our superb quality of care: a place to call home. It's what our community needs and wants.
Unlike the long corridors and double-occupancy rooms of yesteryear, the new home will consist of four separate households, each with 12 private rooms surrounding a central common area featuring a living room, a kitchen, and a dining area. Each household will be in the care of cross-trained, versatile staff available to respond to each resident's individual choice and personal preferences.
Robison Jewish Health Center will be refurbished in order to turn each room into a private one and to replicate to the greatest extent possible the household model there as well. Both buildings will benefit from our long tradition of excellent nursing care.
Dignity by Design integrates into the right mix of age-at-home, assisted living and nursing home options to serve our population for decades to come. Our strategic planning team believes it is more important to build the kind of place our community wants, rather than to grow just for the sake of growth. The new nursing home will bring a total of 48 private beds to the community (12 beds on each of its four floors). This will enable every nursing home resident to enjoy the comfort of their own room, the same way they would in their own home.
Features include:
Bedrooms surround a communal living space
Food service available on demand with meals prepared in households, and residents can participate in preparation
Bathing in the private room
Secure households for residents with dementia
Rehabilitation in households
Greater choice between activities in households in the community areas