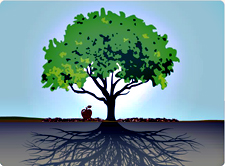 On the full moon or fifteenth of the month of Shevat, we celebrate the New Year of the trees. Fifteen in Hebrew letters is tu and so we call the day Tu B'Shevat.  While Tu B'Shevat has always been considered a minor festival, it has gained new significance in recent years as an environmental celebration of the natural world. If we ask the right questions, Tu B'Shevat can lead us to a greater understanding of ourselves and our relationship with the rest of Creation.
In the time of the rabbis of the Mishnah and the Talmud, Tu B'Shevat was not a holiday, but a legal date to regulate tithing and other agricultural obligations mentioned in the Torah. It began a kind of "fiscal" year for trees.
With the destruction of the Temple in Jerusalem, Tu B'Shevat no longer had legal meaning, and was not observed. By the sixteenth century, however, Kabbalists (Jewish mystics) living in the northern Israeli town of Safed created a Tu B'Shevat Seder.
The Seder includes a series of blessings over various fruits, nuts, and combinations of white and red wine or grape juice, which symbolize the seasons and God's presence in the natural world. The Kabbalists noted that humans had been cast out of the Garden of Eden because they ate a forbidden fruit. They believed that by eating fruit on Tu B'Shevat with profound kavannah (intention), we can make a tikkun (repair) for all our eating, elevating it to a spiritual activity.
~ Abby
by Rabbi Abby Cohen, Director of Spiritual Life