Cedar Sinai Park executives recently attended the PEAK Conference in Washinton, D.C. LeadingAge Oregon members (including CSP's Chief Executive Officer David Fuks) visited the offices of all seven of our congressional delegates this month while in Washington DC attending the conference (a leadership summit and premier event for not-for-profit executives in aging services).
Our great team spoke with our delegates about the key issues impacting LeadingAge members and those they serve, focusing on affordable housing, financing long term services and supports, and adequate Medicare and Medicaid reimbursement for high-quality post acute care.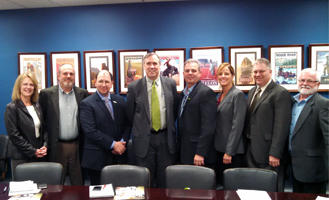 Pictured left to right:  Ruth Gulyas, CEO LeadingAge Oregon; Doug Williams, Administrator Westmoreland Union Manor; David Fuks, CEO Cedar Sinai Park; Senator Jeff Merkley; John Davis, COO, Concepts in Community Living; Dena Smith, VP of Housing, Pacific Retirement Services; Corey Hill, Administrator, Marshall Union Manor and Del Zook, CEO Rock of Ages Mennonite Home.