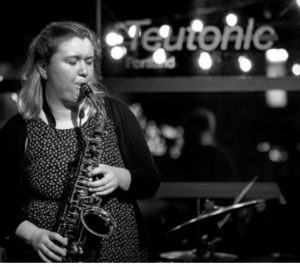 Sunday, July 14, 1:30 p.m., Zidell Hall
Nothing cools down a hot a July afternoon better than smooth, live jazz!
Join us as Nicole McCabe, based in Portland but nationally recognized jazz alto saxophonist, performs free in Zidell Hall, Sunday, July 14 at 1:30 p.m. 
Performing work inspired by such greats as Cannonball Adderley, Kenny Garrett, Sonny Rollins, and others rooted in the bebop and post bop eras of jazz, McCabe can be seen performing with her quartet throughout our area.
She has performed alongside some of the most notable musicians around town, including Alan Jones, Joe Manis, Ron Steen, Charlie Porter, and internationally known John Patitucci and Paquito D'Rivera.
Ms. McCabe can be seen frequently in venues such as the Fremont Theatre, The 1905, Living Room Theatres, and she has a monthly gig at the Teutonic Wine Company. Don't miss this special performance, Sunday, July 14 in Zidell Hall at 1:30 p.m.!