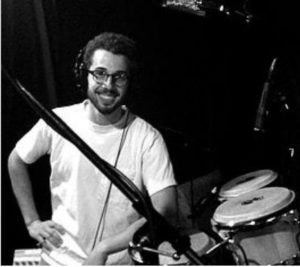 Thursday, July 25, 7:15 p.m., Zidell Hall
Like your jazz infused with beats from other lands? Percussionist Steven Skolnik is a must hear!
Steven studied  western classical percussion at Lewis and Clark College in Portland. While  there he also studied West African hand drums with the late Ghanaian master drummer – and Portland favorite – Obo Addy, and jazz performance under esteemed NW musician Dan Balmer.
Since graduating from Lewis & Clark College in 2013, Steven has toured  the country performing, traveled to Taiwan to perform jazz, released a solo CD of original percussion music, recorded on a handful of albums as a musical collaborator, and started his own music teaching company.
Today Skolnik continues to perform regularly with local musicians  of various styles as well as continuing to teach percussion classes.
This Portland percussion whiz is moving fast! You won't want to miss this free  performance, Thursday, July 25, at 7:15 p.m in Zidell Hall.