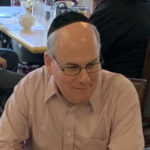 "Can I grab a chair and swing it around?" said Rabbi Barry Cohen, community chaplain, as he approached a nearly full table in Rose Schnitzer Manor's Newmark Dining Room. With Rabbi Cohen, there's always space at the table for one more.  He pulls out the remaining chair and joins the group over veggie omelettes, bagels and lox, fresh fruit, coffee and tea. "How're things?" he asks. "How's breakfast?"
Welcome to Breakfast with Rabbi Barry Cohen. Take a seat.
Originally from Memphis and now a Portland transplant from the Chicago suburbs, Rabbi Cohen was ordained a Reform rabbi in 1998, and he engaged in extra training to become a chaplain. He and his family, including 15-year-old fraternal twins, moved to Portland in August 2018.
Prior to summer 2018 the Federation had committed to creating a community chaplain position to fill the myriad of gaps that had become recognized over time, particularly for the unaffiliated. But Rabbi Cohen — officially the community chaplain of the Jewish Federation of Greater Portland — has greatly expanded his original job description.
Marc Blattner, the Federation's executive director explained, "In partnership with the Oregon Board of Rabbis, the Jewish Federation felt it was important to have a community chaplain to support the needs of non-synagogue members. Rabbi Barry Cohen has extended his efforts to reach out to Jews wherever they are, including Rose Schnitzer Manor, to bring comfort, care, and activities to seniors and others in our community."
Rabbi Cohen's own mother is in a Houston-based residence that he says is similar to Rose Schnitzer Manor (RSM). He said he's aware how connected she remains to the Jewish community there and how important that is to her emotional, physical and spiritual well-being. He wanted to create a similar inroad to keep connections alive for our own at RSM. "They've given so much to the Jewish community," he said of RSM's Jewish residents. "I just want them to know, 'You're still a part of us.'"
They've given so much to the Jewish community -I just want them to know, 'You're still a part of us.'
So, he, Jemi Kostiner Mansfield, then Cedar Sinai Park's director of spiritual life, and residents brainstormed how to make good on the rabbi's desire to schmooze, yes, but also to be available for residents' spiritual and pastoral needs. In the midst of the process, Kostiner Mansfield left to become Congregation Shaarie Torah's executive director and Cathy Zheutlin took over where her predecessor and the chaplain left off.
Then it came to Rabbi Cohen: "Why don't I pick a morning and use that as a way to meet residents?"
Every Tuesday (with some exceptions) the community chaplain with alert eyes, an easy smile, and a quick chuckle arrives at 9 a.m. and enters the Newmark Dining Room (if not stopped in the foyer first by an eager, non-dining resident). For roughly an hour, Rabbi Cohen makes his way from table to table, either opening up a conversation or joining in on one already in progress.
"Whenever I go on a Tuesday morning, I never know what to expect," he said, noting a resident with whom he'd shared a number of breakfast sessions at last opened up to him about her Holocaust experience. In her 90s, she'd never disclosed the story to her own family.
Kostiner Mansfield, recently reflecting on the development of Breakfast with Rabbi Barry, believed in their parties' vision. She said, "The residents at RSM never shy away from spirited discussions on a range of subjects."
"I never know the direction it'll turn," Rabbi Cohen said of his interactions.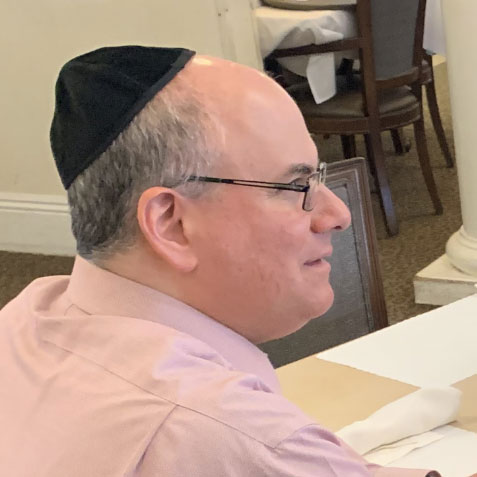 At a recent Breakfast, the rabbi, black kippah firmly in place, first gave his attention to a full table of diners. He then focused on a resident eating oatmeal with blueberries, solo. He said he prioritizes approaching those on their own. The rabbi asked to take a seat and started chatting up Patsy Ridler about the weather.  But she was in for loftier topics.
"I want to ask you about your course," she said of a post-Pesach opportunity, noting her interest in learning about the prophets. There's a lot left to learn other than just Torah," Ridler said. She added that she looks forward to learning with the rabbi since, for example, three words in English might not reveal the entire concept of a given text in Hebrew. "That's why going to the original text is so important," Rabbi Cohen responded.
The rabbi asked after Ridler's health and they talked politics a bit, too, before he politely excused himself to talk with more residents. He sidled up to the full table where he'd asked to "swing around" a chair.
"What's new, Rabbi?" asked Dr. Phillip Reiter as the bespectacled chaplain took a seat.
The residents proceeded to talk about the recent death of basketball star Kobe Bryant, their joint disgust with the current administration, the Democratic candidates' debate, the political stalemate in Israel, even our entire country's judicial system. Without skipping a beat, the rabbi said to his tablemates, "One of the reasons I like coming here is I know I can have real conversations."
Lee Berne, making her way through a tomato and spinach omelette, said she always enjoys social time over meals at RSM. "We always have great conversations, including with the rabbi," she said. Still, the community chaplain said at a later time, "Not every moment needs to be filled with conversation; I just exist in that space."
Rabbi Cohen said, "My concern is when members of the Jewish community feel like they're outside looking in or — G-d forbid — abandoned by the community." His ultimate passion is to ensure the residents believe "we're still connected," wherever we may be on our life journey and where we may physically reside.
"We are blessed to have him in a community of Portland's size and recognize the vital role he plays," the Federation's Blattner said.