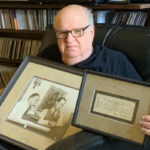 Before health problems got in the way, George Fendel would sit down at a piano every few months to play the music he loves for the residents of Cedar Sinai Park. An hour of Gershwin. Or Richard Rogers. Or Duke Ellington. George's fingers on the keyboard, decorating the tunes written by some of his favorite composers.
For ten years or so, until she died in 2006, Fendel's mother, Gladys Fendel, lived at Rose Schnitzer Manor. Gladys was there whenever George played, proud of the son who shared his passion for jazz standards to the delight of the Cedar Sinai Park community.
Fendel is a former jazz disc jockey whose soothing voice was heard on three different Portland radio stations for 28 years until he retired in 2014. His Cedar Sinai Park shows were filled with easy patter and jazz history, too. He aimed during his radio shows to sound as though he had three or four friends in his living room, just sitting around and talking about music. It was the same with his shows at Cedar Sinai Park. An hour of the Great American Songbook punctuated with memorabilia for his audiences to peruse and discuss.
A stack of Sinatra sheet music. Playbills from a Rogers and Hart musical. Or the framed 1961 letter from Ira Gershwin written to a young Fendel. With it, Ira enclosed a photograph of the Gershwin brothers, and a cancelled check bearing George Gershwin's signature. These treasures – permanently housed on a wall in Fendel's Southwest Portland living room — made more than one trip to Cedar Sinai Park throughout the decades Fendel performed there.
Fendel, bespectacled and bald with a ring of white hair just below his crown, relishes the story of how, thanks to his mother, he acquired the Gershwin items. Gladys Fendel wrote to Ira Gershwin explaining how much her son admired George Gershwin, the late Jewish composer. She asked if Ira might send her son some memorabilia for his 19th birthday.
They've given so much to the Jewish community -I just want them to know, 'You're still a part of us.'

Graciously, Ira Gershwin complied, and included his Beverly Hills return address on the package that arrived at the Fendel's Northeast Portland home. Fendel was attending the Brandeis Camp Institute in Southern California when the package arrived. He jumped in a car and drove to Ira Gershwin's home hoping to thank his benefactor in person. Fendel was invited into Gershwin's foyer and spoke to the lyricist for 15 minutes. Not that he can remember a word of the conversation. He was so excited he promptly forgot it.
Recently, Fendel introduced jazz guitarist Rich Walker, who is new to the Portland area, to an audience at Cedar Sinai Park. Walker played wonderfully for about ten appreciative listeners. Fendel, the producer of an occasional concert series at Classic Piano in Southeast Portland, was pleased to connect a musician with a crowd. The way he sees it, the hours he's spent making music for Cedar Sinai Park isn't volunteerism. Whether playing or producing, he's just a guy doing something he enjoys for people who enjoy listening.
George Fendel, Cedar Sinai Park Volunteer, Piano Player, Jazz Aficionado
Age: 77
Wife: Laura Fendel
Children: Reyna, professional opera and Broadway singer; Mark, professional alto sax player; Aliza Zeff, a folk music devotee
Grandchildren: Jerusalem – Maya, Joe, Asher, and Benjamin Zeff ; Los Angeles –  Nili and Charlotte ZackFavorite pianist: Alan Broadbent
Other favorite pianists: Bill Evans and Oscar Peterson