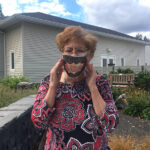 "Beee 1" Nancy Heckler (HSCL Adult Day Services Director) enunciates precisely from behind a poppy-printed mask. You can almost see her lips move as she waves an enlarged game card to accommodate aging eyes and ears, "Ennn  2." She dips into the cage of colorful numbered balls and calls "Geee 10."
"Bingo!" a player jubilantly shouts. Bingo is back at CSP!
Rose Schnitzer residents who play are over the moon that their favorite game has returned – even given their "new normal" game restrictions of wearing a mask and sitting 6' apart.
Those of us who don't lust after the traditional 25-cent prize (not allowed because of COVID-19 restrictions) are every bit as buoyed by the news of its return. Could normal life be far behind?
The universal game with its mass appeal is the first group activity to be temporarily revived at Rose Schnitzer in our as-yet-uncharted "new normal" world. But, both staff and players agree, there is a key element missing: CSP's foremost fundraiser and Milt Carl's youngest daughter, Barbara Carl Enkelis. Barbara, or "Bingo Barbie," is not calling. Like so many, she is working from home.
Bingo without Barbie isn't Bingo.
She has our tempo down pat.
"Bingo without Barbie isn't Bingo. She has our tempo down pat," RSM resident Shirley Nudelman tells me.
Prior to my virtual one-on-one with Barbie, I reached out to Nancy Heckler, who has stepped in to fill Barbie's shoes to call bingo these past few months. Nancy is Barbie's immediate supervisor, as well as a friend of 16-plus years.
I quickly learned from Nancy that Barbie is not allowed to do her job as our Simcha (Joy) Coordinator, while Oregon's COVID stay-at-home orders are in place.
Kimberly Fuson, CEO of Cedar Sinai Park, and another longtime friend, enlarges on the unusual title: "As Simcha Coordinator, Barbie is the essence of joy. She remembers and celebrates everyone's special occasions, making each person feel specially loved! Barbie showers her energy of pure joy and soul happiness to the residents and staff of CSP. She is a true blessing to our community. We all love her dearly."
Three short blocks away, the indomitable Bingo Barbie is quite literally champing at the bit to stroll again from her and husband Mike's cozy gray house to "her" campus.
She yearns to kibbutz with longtime residents, welcome new folks, guide people to activities, and offer hugs — pre-COVID — to those in need of a little consolation. And, of course, there's her beloved Bingo.
Through it all, Barbie's humility shines bright. She's uncomfortable talking about herself, won't discuss past accolades, and never, ever boasts. I had to learn from an old friend, retired Robison/HSCL head nurse Ronnie Schechter, that Barbie was granted the prestigious "Song of Miriam" award by what is now the Jewish Women's Council at JFGP.
If you think labeling someone as humble is equivalent to labeling her as weak, here's the takeaway from a 2015 Forbes Magazine article: "Humble people can receive a bad rap. Humility is frequently associated with being too passive or insecure, but this couldn't be further from the truth. Rather than brag about themselves they let their actions speak for them. Being humble is not to think less of oneself but to think of oneself less."
Understanding all this, I place the Facetime call Barbie and I agreed upon. "You want a story about my dad, right?" she opens. "No, Barbie," I brush a lunch crumb off my screen, "This story is about you, and your endless gifts of joy to all of us." After assuring her that her dad's resume and fundraising endeavors could fill a book, we settle in for an extensive conversation.
I've encountered Carl family members over the years — like Barbie's older sister, Pam Rotenberg — but only during my subsequent flood of chats, texts and emails to and from Barbie, have I come to understand this woman's immense heart, true humility and unswerving commitment.
I peer into my iPhone: Her unaffected smile and earnest eyes brighten the pixels. There is no guile, no hidden agenda. No wonder this middle-aged woman is among the most approachable people on campus.
I grab another legal pad to keep taking notes as Barbie described the beginning of her connection to CSP…Barbie was introduced to the old Robison Home in the late 70's when her dad Milt, his wife Cissi, and assorted relatives brought their beloved elders to the Home.
When I began working in 1993, many residents had been my parents' close friends for years.  A few of them, actually, rocked me as a baby.
"When I began working in 1993, many residents had been my parents' close friends for years," Barbie tells me. "A few of them, actually, rocked me as a baby.  My mom," Barbie adds, "took residents out to lunch regularly." It's easy to see how Barbie developed such strong and loving attachments to CSP from early on.
And, of course, there's her father, who joined the board of directors in 1982. He devoted the next decade to raising the funds that built Rose Schnitzer Manor and the remodeled Harold Schnitzer Center for Living (HSCL).
The thing about Barbie, I muse, is that no one on our campus has ever "not" been her family. Here are a few things you might know about Ms. Enkelis:
She and her now-retired husband, Mike, have a grown son, Gary. In fact, I hear Mike shouting from beyond the reach of the phone, "I love her," he yells, "for her perky personality."
She stuffs our resident mail boxes with upwards of 200 handmade greeting cards annually.
Barbie LOVES (the caps are hers) shopping and dining out. Residents tease her about all her newest possessions.
The couple adore romantic cruises to the Caribbean and other exotic ports.
Barbie has a super sense of humor: "My mom," she explains, "taught me how to make dinner without a mess" — she pauses — "make reservations!"
She also fills me in on a few practical jokes she plays on cheating or disruptive Bingo players…But swears me to secrecy…
I can think of no better way to close this "Bingo Barbie" article than to quote the author, Joshua Becker, of four books on minimal/decluttered living. "Humility is a funny thing," he says on his website. "In fact my grandfather told us he won a medal for his humility, but it was taken away when he began to wear it."
We'll never see Barbie's medals. She's too humble to wear them.