IMPORTANT INFORMATION AS OF: August 6, 2020:
Dear Colleagues, Residents, Families, and Friends,
Please join me in welcoming Shannon Freeman, RN to Cedar Sinai Park in her role as Director of Nursing at Robison Jewish Health Center/Harold Schnitzer Center for Living (RJHC/HSCL).
Shannon's nursing passion and practice has been focused in long-term care for 29 years. She began her career as a Certified Nursing Assistant and continued to learn and grow, becoming a Certified Medication Aide, then a Registered Nurse. Shannon has served as a Director of Nursing for 18 years. We are excited about Shannon's experience and hands-on approach to advancing person-centered nursing practice, quality of care and life for residents and staff.
An Oregon native, Shannon and her family live in North Plains on a rescue ranch, providing a life-long home for abandoned farm animals. She also enjoys gardening, horseback riding and collecting Barbie dolls. Shannon shares she is "super excited and happy to be here and looks forward to meeting everyone!"
This week Shannon is shadowing interim Director of Nursing, Kimberley Birkemeier, RN, MN, ANRP-BC, who has been with RJHC/HSCL since January 2020. We are deeply grateful to Kimberley for her leadership. Please join me in thanking Kimberley for her service to CSP. It has been an honor and privilege to work with you and we wish you all the best!
On all our minds and in our hearts this week: Testing update:
Rose Schnitzer Manor (RSM):
As of this morning:

96 of 135 resident results received: ALL NEGATIVE.
26 of 90 employee results received: 24 NEGATIVES; 2 POSITIVES (No new positives since last report).
Reminder: Our staff who've tested positive remain at home until cleared of COVID-19 per CDC guidelines; only our original staff member who tested positive has been symptomatic to date, and is recovering well (thank goodness).
Robison Jewish Health Center/Harold Schnitzer Center for Living (RJHC/HSCL):
Initial testing in process for both staff and residents.
Sincere gratitude to our AMAZING staff for your
heartfelt care for our residents and one another and your
attention to infection control.
Family and Friends: We truly appreciate your effort to stay in touch and connected in the safest way possible as we navigate through this most recent restriction to visitation. Please know that once our executive orders are lifted, both RJHC/HSCL and RSM are prepared to launch outdoor visitation programs.
Residents: We strongly and with the deepest conviction encourage each of you wear a face covering/mask any time you are out and about on campus, and especially indoors.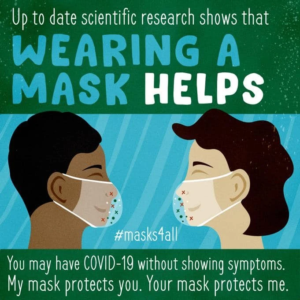 To help support this effort, David Saltzman has gifted an additional 1000 washable cloth masks to residents of CSP.
Blessings and thank you David!
Cedar Sinai Park is grateful to each of you who live, work, connect with and support us. Although we cannot all be together, we feel the love and positive energy sent our way on a daily basis. Know that your efforts truly keep our spirits up.
As always, if you have any questions, please feel free to contact the campus administrators or me. We will assist you in any way possible.
RSM: Vivian Villegas: 1-360-936-2694
HSCL/RJHC: Krista Mattox: 503-320-0807
With love, honor and respect,
Kimberly Fuson
Chief Executive Officer
503-504-5277