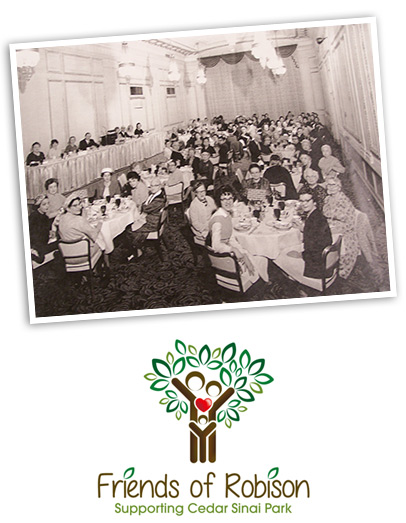 Mission of the Friends of Robison
The Friends of Robison (FoR) is an organization of women and men dedicated to enhancing the quality of life for all residents who reside on the Cedar Sinai Park Campus by a variety of means, including fund raising and volunteering.
A Rich History
Formerly the Robison Jewish Health Center Sisterhood, the Friends of Robison has been in existence for close to 100 years.
Back in 1920, the Old People's Home was founded by the Jewish Men's Benevolent Society to fill the need for a Jewish home for our elderly in the community. The very early residents of the "Home" were a few men. The Benevolent Society's original building was a 16-bedroom home on the corner of 3rd and Lincoln in the Jewish/immigrant neighborhood of "Old South Portland." Women were not eligible to join the Benevolent Society but provided the general upkeep and supportive services. The "women's auxiliary" then evolved into a strong Sisterhood under the leadership of Hannah Robison.
A Bright Future
Fast forward almost 100 years and the Friends of Robison remains strong with the same core commitment—to enhance the quality of life for all residents on the Cedar Sinai Park Campus.
The future of FoR looks bright as we continue to fulfill wishes for CSP's residents. FoR has made dreams come true with the purchase of our CSP van, the naming of the Harold Schnitzer Center for Living (HSCL) beauty salon, and providing the new beautiful display cases located in the Goodman Living Room…just to name a few.
Join Friends of Robison Today!
We would love for you to become a Friend of Robison, helping to make wishes come true in support of our Cedar Sinai Park residents.
As it says in Ecclesiastes, "Two are better than one because they have a good reward for their labor. For if they fall, the one will lift up his fellow; but woe to him that is alone when he falls, for he has not another to help him up" (4:9-10).
The mission of the Friends of Robison is more meaningful now more than ever. We invite you to share the Mitzvah of giving and service.